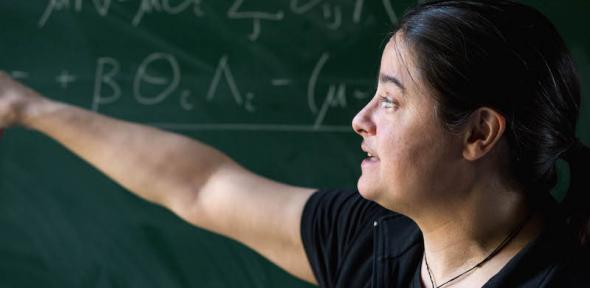 Julia Gog, Professor of Mathematical Biology in the Department of Applied Mathematics and Theoretical Physics, will share the presenting duties with Professor Jonathan Van-Tam during this year's Christmas Lectures from the Royal Institution.
Gog is one of six Guest Lecturers, who have all played a key role in the UK's response to the on-going COVID-19 pandemic. They will support the 2021 Christmas Lecturer Professor Jonathan Van-Tam, Deputy Chief Medical Officer for England, to demonstrate that tackling pandemics is a collaborative and interdisciplinary scientific effort. 
The 2021 lecture series is titled Going viral - how Covid changed science forever. Together, this year's presenters will offer insights into the world of viruses – how they arise and proliferate, and how we humans respond – from testing and modelling to vaccine development and infection control. The lectures will explore why discoveries and advances made during the on-going pandemic will have an impact far beyond COVID-19 and are set to change the future of medicine.
A landmark series
The Royal Institution's Christmas Lectures were initiated by Michael Faraday (who presented 19 series of lectures himself) in 1825. They have continued annually ever since, only stopping for four years during World War II. The Christmas Lectures have been broadcast on television every year since 1966, becoming a landmark of science communication and inspiring generations of children and adults alike.
This year's Guest Lecturers will lead the on-screen exploration into their area of scientific expertise, with two appearing in each episode. Three of the six Guest Lecturers are Cambridge researchers - in addition to Julia Gog, the lectures will also feature Ravi Gupta, Professor of Clinical Microbiology at the Cambridge Institute for Therapeutic Immunology and Infectious Disease, and Sharon Peacock, Professor of Public Health and Microbiology in the Department of Medicine. 
Julia Gog's research focuses on the mathematics of infectious diseases. Throughout the pandemic, she has provided expert infectious disease modelling advice to the UK Government as a member of the Scientific Pandemic Influenza Group on Modelling (SPI-M) and the Scientific Advisory Group for Emergencies (SAGE), particularly on options for re-opening schools. Her work was recognised with an OBE in 2020, and she is co-lead of the UKRI-funded Joint University Pandemic and Epidemiological Research (JUNIPER) Consortium, which brings together leading mathematical and statistical modellers from seven UK universities (you can read more about JUNIPER's work here).
The 2021 Christmas Lectures will be screened on BBC Four and BBC iPlayer between Christmas and New Year, and will later be available for a global audience via the Royal Institution website.
You can learn more about Julia Gog's work with SPI-M and SAGE in our recent interview, and explore her previous collaboration with the BBC on the 2018 BBC Pandemic project in this feature article.