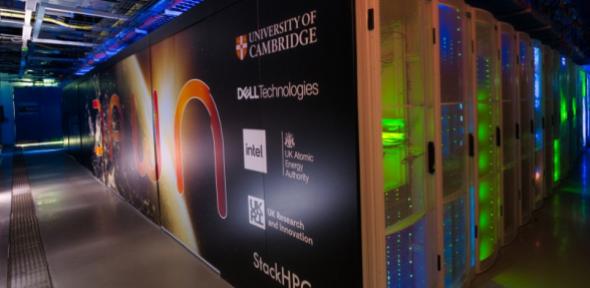 The University of Cambridge is hosting Dawn, the UK's fastest artificial intelligence (AI) supercomputer. The resource will support research by academics across the UK, including DAMTP's Institute of Computing for Climate Science.
World-leading technical teams from the University, Intel and Dell Technologies built Dawn, which harnesses the power of both AI and high-performance computing (HPC) to solve some of the world's most challenging and pressing problems.
"The coupling of AI and simulation methods is a growing and increasingly essential part of climate research." Emily Shuckburgh
Dawn, supported by UK Research and Innovation (UKRI), will vastly increase the country's AI and simulation compute capacity for both fundamental research and industrial use, accelerating research discovery and driving growth within the UK knowledge economy. It is expected to drive significant advancements in healthcare, green fusion energy development and climate modelling.
Professor Emily Shuckburgh, Director of Cambridge Zero and the Institute of Computing for Climate Science, hosted at DAMTP, said: "The coupling of AI and simulation methods is a growing and increasingly essential part of climate research. It is central to data-driven predictions and equation discovery, both of which are at the fore in climate science.
"This incredible new resource – Dawn – at Cambridge will enable software engineers and researchers at the Institute of Computing for Climate Science to accelerate their work helping to address the global challenges associated with climate change."
Advancing a step closer to exascale
Hosted at Cambridge Open Zettascale Lab's site, Dawn is the fastest AI supercomputer deployed in the UK today and will support some of the UK's largest-ever workloads across both academic research and industrial domains.
Dawn brings the UK closer to reaching the compute threshold of a quintillion floating point operations per second – one exaflop, better known as exascale. For perspective: every person on earth would have to make calculations 24 hours a day for more than four years to equal a second's worth of processing power in an exascale system. Dawn is the UK's first step on the road to developing a future exascale system.
Tom Griffin, Director of Science and Technology Facilities Council (STFC) Scientific Computing (part of UKRI), and UKRI lead for the national AI Research Resource, said:
"AI could well transform society as much as the industrial revolution or the dawn of the information age, and if we are going to keep pace with this change, we must equip UK scientists with the tools to explore and advance this burgeoning new field. UKRI and STFC are proud to support this world leading supercomputing resource and the exciting research across the UK that it will facilitate."
Catalysing discovery and innovation
Dawn has been created via a highly innovative long-term co-design partnership between the University of Cambridge, UK Research & Innovation, the UK Atomic Energy Authority and global tech leaders Intel and Dell Technologies. 
In a landmark collaboration, Dawn Phase 1 and the already announced Isambard AI supercomputer at the University of Bristol will join to form the AI Research Resource (AIRR). AIRR is a national facility announced by the UK government  in March 2023 that will provide world-leading AI-specialised compute capacity to public researchers, academia, and industry, to help researchers maximise the potential of AI and support critical work into the potential and safe use of the technology. 
Over a thousand top-end Intel graphics processing units, or GPUs, will be installed as part of the Dawn cluster. Dawn will be fully operational by the end of this year, at which point it will be the UK's largest public AI compute cluster by a significant margin.
The previously announced Isambard-AI system in Bristol forms the other part of the AIRR programme. When the entire AIRR programme is fully operational, these facilities will provide at least a thirty-fold increase to the UK's AI supercomputing capacity.
Announcing investment in this national resource, Science, Innovation and Technology Secretary Michelle Donelan said:
"The UK is already leading the way in global action on the safe and responsible development of frontier AI, and by turbocharging our public AI compute capacity our researchers, academia and industry can truly maximise the potential of the technology in the safest way possible."
"The Dawn cluster will be another catalyst of scientific discovery and innovation in our world-leading AI Research Resource."
Discover more about the work of the Institute of Computing for Climate Science in our feature article New Institute established to tackle climate change.
This article is adapted from news releases published by the University of Cambridge and UKRI.
Image credit: Joe Bishop