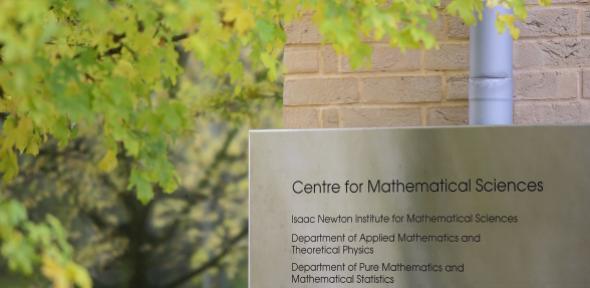 Dr Ewan Kirk is Royal Society Entrepreneur in Residence (EiR) at the Centre for Mathematical Sciences. In this video interview he tells us about his route from mathematics to finance, what entrepreneurialism is all about, and what he is planning to do as EiR.
The Royal Society's Entrepreneur in Residence (EiR) scheme enables universities to partner with successful entrepreneurs and business leaders to develop projects that build the entrepreneurial skills of staff and students. Ewan Kirk has just taken up his role as (EiR) and will be embedded within the Mathematics departments for two years. We caught up with him to find out more. (You can read an article based on our interview with Ewan Kirk here.)
What is entrepreneurialism?
Kirk has first-hand experience and a deep understanding of what entrepreneurialism is all about. "I like to describe it as a kind of fractal approach to things that are important. You've got to be quite good at working at different levels from the business strategy to fixing the coffee machine."
How did you become an entrepreneur?
Kirk's career has taken him from Part III in Cambridge through Goldman Sachs and founding the "exceptionally geeky hedge fund" Cantab Capital Partners to philanthropy
How is a mathematics background useful in becoming an entrepreneur?
A mathematician's major transferable assets are thinking and problem-solving skills. "What mathematics brings is a way of thinking about things - it's a way of understanding what is definitely true."
What has your involvement been with the Mathematics Faculty?
In 2015 Kirk's firm Cantab Capital Partners gave £5 million to establish the Cantab Capital Institute for the Mathematics of Information. "A huge number of my employees had come out of this building and had come to Cantab, so we felt we wanted to give something back."
What are your plans as Entrepreneur in Residence?
Initial plans include a lecture series and open office sessions where staff and students can discuss ideas. "There's no such thing as an idea you should be embarrassed about."
You can read an article based on our interview with Ewan Kirk: Welcome to our Entrepreneur in Residence.