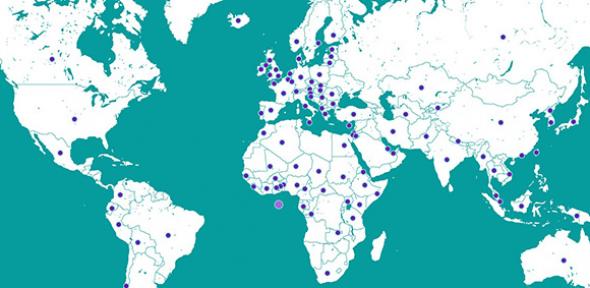 The impact of the Faculty's research and outreach has been highlighted in a new report and interactive map produced by the University of Cambridge. The map showcases the social and economic benefits of University of Cambridge research and initiatives across the UK and worldwide.
The economic and social contribution of the work carried out across the University is huge. A report published in March 2023 concluded that the University of Cambridge contributes £30 billion to the UK economy and supports more than 86,000 jobs across the UK. The report was compiled by London Economics, one of Europe's leading specialist economics and policy consultancies.
To bring this to life, the University's new interactive map gives a visual picture of the global benefits of Cambridge's research and activities, highlighting a range of examples from the recent Research Excellence Framework assessment and elsewhere.
The wide and diverse research areas within the Mathematics departments include tackling global challenges such as healthcare and climate change. Economic and technological benefits range from helping Dyson improve the design of their filters (see our article Taming Complexity) to enabling fundamental improvements in the speed and reliability of the internet: the technology this research underpins is now deployed in over 1.3 billion iPhones worldwide. Work within the Faculty has far-ranging social benefits too - from helping to improve treatment for cancer patients to supporting maths education in schools throughout the UK.
Discover more about how our mathematics research, outreach and engagement is making a difference through some of the examples featured in the University's impact map:
The maths inside a billion smartphones
An algorithm developed by Frank Kelly, Professor of the Mathematics of Systems in the Department of Pure Mathematics and Mathematical Statistics, underpins improvements in mobile phone and internet performance worldwide. The practical outcome of his pioneering research can be found in over 1.3 billion iPhones, and is now a standard feature of 5G.
In the late 1990s, Frank Kelly developed a conceptual mathematical framework which elegantly described packet-switched networks, such as the internet. His further mathematical research in the early 2000s explained why the internet worked as well as it did, providing confidence in its reliability and robustness under rapid growth, and rendering re-design unnecessary. With increased demands on the internet, in 2005 Kelly developed a novel algorithm to route traffic via multiple paths. Subsequently, an international group of computer science researchers, involving a former PhD student of Kelly's, Damon Wischik, translated Kelly's pioneering work on routing traffic via multiple paths into a practical implementation: Multipath TCP (MPTCP).
MPTCP has had extensive reach and significant impact. It provides quicker responses, faster data transfer, and improved resilience to traffic surges and link failures. It therefore greatly improves the user experience of demanding Internet applications such as video streaming and speech recognition - for example, Apple Siri. Siri (like other apps such as Maps and Apple Music) uses MPTCP to switch seamlessly between Wi-Fi and cellular networks, even when users are moving, to significantly improve performance. To date, MPTCP has been deployed in over 1.38 billion Apple iPhones worldwide, representing sales of over $951 billion.
Discover more in our feature article Enabling a faster internet and better smartphone performance.
Helping patients reach informed treatment decisions for breast and prostate cancer
The examples featured in the map include PREDICT, a pair of powerful online risk communication tools which facilitate informed treatment decision making for breast and prostate cancer. The PREDICT tools were developed by Cambridge researchers in the School of Clinical Medicine and Cancer Research UK with the Mathematics Faculty's Winton Centre for Risk and Evidence Communication. The two websites are now used in over 200 countries, and have helped thousands of patients across the world reach better clinical outcomes, avoid unnecessary treatments and experience less distress. 
A conservative estimate suggests that since 2013 in the UK, PREDICT Breast has resulted in around 7,500 women being offered chemotherapy who would otherwise not have been, and around 11,000 women being spared unnecessary chemotherapy. Through giving patients a better understanding of survival rates and comparing treatment options, PREDICT Prostate has resulted in a significant reduction in treatment recommendation variation among clinicians, and over a third of patients using PREDICT Prostate said they were less likely to choose radical treatment, after considering what options are best for them. The use of the PREDICT tools is estimated to produce potential savings to the NHS of £46 million per year. 
Read more in the University feature Predicting better and our article Helping men with early prostate cancer.
Advancing high performance computing through cosmology
DAMTP's Centre for Theoretical Cosmology (CTC) conducts research into the fundamental structure of the Universe and its origin, investigating black holes and the Big Bang through mathematical theories and observational data. The CTC's research requires immense computer processing capability to solve the equations involved and analyse vast amounts of data, and the development of new visualisation paradigms. To achieve this, CTC has been engaged in long-standing industrial collaborations with Intel and Hewlett Packard Enterprises (HPE) to design and develop high performance computing hardware and software. These collaborations have not only pushed forward the boundaries of cosmology research, but have also brought significant benefits to the commercial partners too. 
Partnerships and innovations involving the CTC have helped to advance high performance computing and visualisation worldwide. Innovations resulting from collaborations with CTC played a part in driving the $275,000,000 acquisition of SGI by Hewlett Packard Enterprises in 2016, and in the development of HPE's flagship Superdome Flex in-memory system. CTC researchers have also been involved in coding collaborations with Intel, and in the development of the open-source visualisation library OSPray. This lies at the core of the Intel OneAPI Rendering Toolkit, which is widely used in applications from medical data to Hollywood CGI - the results are spectacularly demonstrated in How to Train Your Dragon: The Hidden World.
Find out more in COSMOS: from black holes to Hollywood.
Reaching out to inspire interest in maths and science
Alongside economic impact, the report and map highlight the social benefit of the University's contribution to teaching and learning beyond the institution. An outstanding example is Stephen Hawking's lasting impact in increasing public interest in science and mathematics, and encouraging further study.
In the period 2013–2021 alone Hawking's books sold an estimated 3.6 million copies. His TV appearances and public lectures inspired millions more, and the livestream of Hawking's 75th birthday symposium in Cambridge reached over 5.4 million people worldwide. In a December 2019 YouGov survey, 99% of the UK adults surveyed had heard of Hawking. For those aged 18–24 who had benefitted from Hawking's most recent public engagement work, 23% were encouraged to study science and technology at school and/or university.
In a major gift to the nation reflecting his impact on science and popular culture, Stephen Hawking's personal archive has been acquired by the Cambridge University Library and will be made accessible to the public, while the contents of Hawking's office in the Department of Applied Mathematics and Theoretical Physics (DAMTP) have been given for display in the Science Museum.
Discover more about Stephen Hawking's ongoing education and public engagement legacy in our Faculty articles Preserving Stephen Hawking's legacy for future generations and The Universe unravelled.
Raising the next generation of problem-solvers
The March 2023 report on Cambridge's benefits to the UK economy specifically highlighted the social impact of Faculty outreach, with a case study on NRICH. NRICH is the largest programme within the Faculty's Millennium Mathematics Project (MMP), the University's flagship outreach initiative, supporting teachers, parents and schoolchildren throughout the UK.
The NRICH website publishes free, online resources to give 3-18 year-olds the widest possible opportunities to experience a rich, imaginative and challenging mathematical education. NRICH resources focus on building problem-solving skills, perseverance, mathematical reasoning, ability to apply knowledge creatively in unfamiliar contexts, and confidence in tackling new challenges.
The NRICH site saw particularly high use during COVID-19 school closures, attracting over 10 million visits and just under 33 million page views, and was highlighted by the UK's Department for Education as a resource for home schooling. A collaboration with the BBC in 2020 to support online BBC Bitesize daily maths lessons for home learning further extended this reach.
"It's important that we catch people young and sustain their interest," said Dr Ems Lord, NRICH Director. "What's really special about NRICH is that we encourage children to problem solve in different ways, take different approaches, and use and apply their maths. And by doing that, when students leave school, they are truly ready to solve problems."
Find out more in Raising the next generation of problem solvers.
 
You can explore the interactive impact map here and read more about the report on Cambridge's economic impact on the University website.