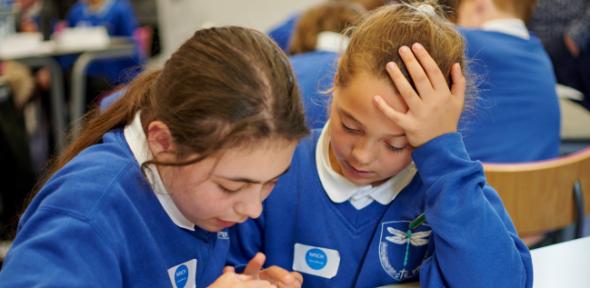 When the COVID-19 pandemic closed schools last year, the Faculty's NRICH education programme reacted swiftly to lend vital support to the UK's schoolchildren, their parents and teachers. Nearly a year on, it continues to provide essential help, both in classrooms and with homeschooling.
The NRICH project provides thousands of free online mathematics resources for ages 3 to 18, which focus on developing mathematical thinking and problem-solving. Following school closures traffic to the site surged: the NRICH website saw a dramatic 95% increase in site visits from the UK between March and September 2020, reaching more than 1.5 million UK users.
"We created a selection of resources so you didn't need your metre stick or your plastic cubes, and we tried to make it as family friendly as possible." Ems Lord, Director of NRICH
International figures are even more impressive. Between March and September 2020 the NRICH website was accessed by more than 3.5 million users across 230 countries and territories worldwide, resulting in over 20 million pageviews.
Rapid response resources
NRICH is a collaboration between the University's Faculties of Mathematics and Education, and part of the Faculty's Millennium Mathematics Project. The NRICH team responded quickly when it became clear that schools would be closing as part of the lockdown, working to tailor the website for pupils working from home and uploading resources to benefit them – and their parents.
"We totally pivoted," said Ems Lord, Director of NRICH. "We put everything else we were doing on hold and sat down as a team and worked out what categories we needed to fill. We went through our files and found all the stuff we thought would be good to do at home. Activities you could print off and resources you could use online."
Considering the new learning environment pupils found themselves in, the NRICH team also created resources that utilise things found around the house, such as buttons, scraps of paper, and even toy bricks that could be used as counters.
"We created a selection of resources so you didn't need your metre stick or your plastic cubes, and we tried to make it as family friendly as possible," said Lord. "We also rejigged our homepage for people coming to it for the first time – we put a bright yellow banner across the page that says 'Maths at Home', so you couldn't miss it."
The revamped site was live on the morning of March 23, 2020, the Monday after schools closed. NRICH was already reaching millions of users worldwide, but on that Monday morning the increased demand was so high that server capacity had to be doubled.
The Department for Education reacted by highlighting the NRICH website in its list of resources to support online learning. The NRICH team also worked with the BBC to provide resources supporting and extending the BBC Bitesize online daily maths lessons throughout the summer term.
Developing confident problem-solvers
Key to the success of the new content was making sure parents and carers felt confident so that they could help the children with their learning if needed.
"It's very different working with families and explaining things to parents who are home-tutoring for the first time," said Lord. "The resources include 'teacher notes', explaining how to introduce the activity and what to look for, and that was ideal for parents who were new to a particular maths topic, or might even have grown up having nightmares about maths! We normally invite pupils to send in their solutions and ideas, we have those on the site, so if you're a parent who's not used to teaching maths, or a child working on their own, the answers are all there, with explanations."
"Most of the people on the team had family members who were at home, and so they could really think 'this is what someone else at home will need'. We're very aware that if a school is closed and you're doing maths at home, it's very easy to fall into the trap of just practising times tables, number facts, following procedures and not actually doing engaging maths. And I think that's why it went down so well — it had flexibility."
A great diet of maths
The support continued when students returned to the classroom in September. The NRICH team's mission to directly support and enrich the mathematics curriculum, by embedding problem-solving approaches in learning, is being tailored to address the ongoing impact of COVID-19.
"There's obviously a need to fill any gaps that have been left as a result of the pandemic and the pupils' disrupted learning, but there is also [a general] concern about classrooms turning into 'hothouses', where lessons are solely focused on procedural work. So for every key topic, where we can, we're providing enrichment activities and problem-solving resources, so pupils can also develop and experiment with maths. It's gone down very well with teachers."
"It's been a lot of work, but it's a fantastic team, and mathematicians love a challenge. We want to make sure children are still having that high quality experience. We're part of the University of Cambridge, and what we would very much like to do is make sure all children have a great diet of maths, and have that understanding of why it's important. We want to address that national issue we have of 'I'm no good at maths'. That's where we're coming from."
A version of this article was first published in the news section of  the University of Cambridge's website.
You can find NRICH's free online resources at nrich.maths.org. If you would be interested in supporting the project's work, find out more here.