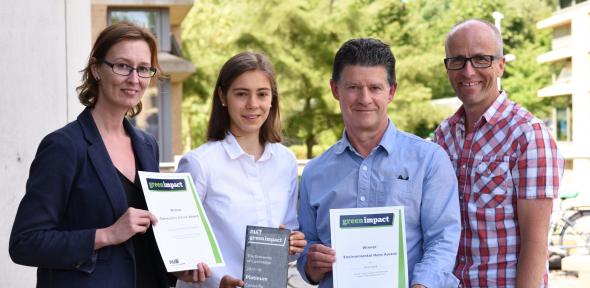 Sustainability is a key concern for the University as a whole. The Centre for Mathematical Sciences (CMS) has become a flagship example of how environmentally sustainable thinking can become an integral part of running large existing sites, and improve our lives every day.
This work has been led by Facilities Manager Mick Young and Senior Custodian Tim Kisler Green. Their efforts, working together with students and staff from across the CMS, have been recognised with all four of the possible University awards and a number of special awards from Green Impact, a national environmental accreditation scheme run by the University since 2012.
The team
"Sustainability is now part of our thought processes and influences our decisions"Mick Young
Sustainability has been a long running interest for the Facilities Team at the CMS. There has been a long-term recycling scheme and now the CMS has one of the highest proportion (approximately 2/3) of waste that is recycled out of any of the sites in the University.
Back in 2009, encouraged by research students Rosie Robison and Katy Richardson, the CMS got involved in the national "10:10" campaign (saving 10% of energy usage in 2010). As well as encouraging all CMS residents to do their bit, this prompted Young to review energy usage across the whole site. He made numerous changes to the lighting control and air flow systems and discovered these changes were very effective in saving energy and were not even noticed by the users of the site. As well as helping reach the 10% savings target in 2010, these changes have carried on giving energy savings for the last decade.
The Green Impact Team at the CMS was formed in 2017 by Young, Kisler Green and Hannah Fox (DAMTP Departmental Administrator), and has included staff and undergraduate and post-graduate students. "The real encouragement comes from the student involvement," says Young. "Over the years there has been a core but ever-changing team of students working with us." The students involved change each year, but key student members of the team have been Tim Lennox, Fritz Hiesmayr, Leanne Durkan and Maybritt Schillinger. The CMS received the Bronze and Silver Green Impact Awards in 2017, and the Gold and Platinum Awards in 2018, achieving all four awards in two years rather than in the usual four years.
A huge scope of impacts
Some of the seemingly straightforward tasks required to achieve the Bronze and Silver Awards presented challenges in such a large site. For example, putting a "Switch off when leaving" sticker on all light switches took logistical effort in a site with 350 offices, 20 lecture theatres, and the associated toilets, corridors, common rooms and basements. This was just one of the examples of the work Kisler Green and Young did, often in their own time.
The Gold and Platinum Awards also recognised specific projects, such as setting up a pool of bikes for CMS staff to use. "Any staff member can borrow these to use in the day, meaning people go by bike to meetings or lunches off site rather than travel by car," says Young. This project started out with one bike, and now has been expanded to four CMS bikes, with an additional two bikes located in the Betty & Gordon Moore library and the Isaac Newton Institute.
"Green Impact encourages you to do further work with other organisations," says Young. "We have worked with Opportunities Without Limits (OWL), a charity that works with disabled people to refurbish donated bicycles and reselling them to raise money." The CMS Green Impact Team donated all the abandoned bikes at the end of the year across the site in 2018 and 2019. OWL then returned to CMS at the start of next academic year to resell the refurbished bikes to students and staff, and offered a repair service for the day at the CMS. Young says there are many benefits to this collaboration, as well as providing money and resources to a charitable trust. "This helps people at the CMS to get bikes and encourages cycling. It also gives others the opportunity to get their bikes repaired, which can be difficult to do in a busy life." This and other initiatives to promote cycling are part of ongoing plans for the team.
Sustainability is now embedded in the way Young runs the site. For example, in upgrading the sophisticated lighting system of the CMS, including its hierarchical system of computer controls. This system is now twenty years old and it is increasingly difficult to obtain spare parts to maintain. Rather than just replace the system across the whole site, at a significant cost and wasting discarded parts, Young suggested replacing the lighting system building by building across the site, upgrading a building every five years. This means that removed parts can be used as spares for the old system in the other buildings, extending the life of the old lighting system, saving money and making the most of the existing resources. "Updating the lighting system one building at a time frees up those parts as spares for the other buildings, means that we can maintain the site for the next 20 years as well as reducing waste."
Another example where ongoing maintenance offers more opportunities to save energy and money is the switching the existing lightbulbs to LEDs. Although this would save a lot of energy, it would be prohibitively expensive to switch all the existing lights to LED bulbs across the site. Instead the Team trialled switching only those lights in lecture rooms and common areas in one building (Pavilion E) and saw a 20% reduction in electricity usage across a year. If they implement this more affordable policy across all buildings they could potentially save 250,000 kWh of energy a year. And Young says this lower capital cost would be paid back within a year in savings in energy costs.
A legacy for the future
"The impact doesn't stop with the award, it is a legacy for the next ten to twenty years," says Young. In addition to achieving all four awards for Green Impact, in 2018 Young was recognised with the Environmental Hero award, for both his own extensive work on sustainability and also for his enthusiasm in getting others involved. The CMS Green Impact Team also won a special Community Action Award for their work with the local community, including running planting days for local residents. This involved planting over 2500 bulbs in the last three years which give a fantastic show each spring and the Team hopes will keep reappearing for years to come. "It was also an opportunity to reinforce our relationships with the neighbouring community, who helped come and plant on two Sundays." Such projects produce great legacy for such a small cost.
Young is quick to give credit to everyone involved, including the gardeners who have refreshed the CMS gardens over the last few years planting long flowering species which are good for birds and butterflies. After CMS colleague Fran Watson donated a bird box to the site, the Team was inspired to install 14 more. Some of these became homes for blue tits and jays last summer, much to the delight of people at the CMS.
"Sustainability is now part of our thought processes and influences our decisions. But we have to keep up the effort to maintain awareness for all staff and students, particularly as there is a new batch of students each year," says Young. It is this ongoing involvement of staff and students that has fuelled their work. "It feels inspiring if others take an interest, and it gives you a sense of pride in the achievements at the CMS," says Kisler Green. Their work on Green Impact has also been an opportunity to meet people from other departments and sites across the University. Now, after their successful work on sustainability at the CMS, Young and Kisler Green are providing advice to other sites in the University, continuing their impact beyond the Mathematics Faculty.