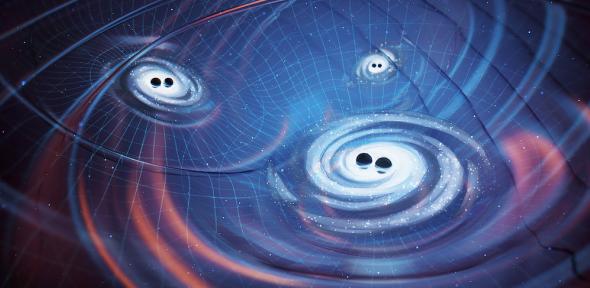 In June 2023 there was some huge news in the world of cosmology: for the first time scientists have detected a low frequency hum of gravitational waves.
The new results were published by the North American Nanohertz Observatory for Gravitational Waves, NANOGrav for short. The NANOGrav team were not alone — they coordinated with collaborations in Europe, India, Australia, and China, which released similar findings at the same time.
To find out what these new results mean, and why they're so exciting, Plus - part of the Faculty's MMP outreach and public engagement programme - talked to Dr Michalis Agathos, Dr Amelia Drew, and Professor Ulrich Sperhake of the Stephen Hawking Centre for Theoretical Cosmology in DAMTP. Listen to the podcast below.
This podcast was recorded in July 2023 at the Centre for Mathematical Sciences. You can find out more about the topics discussed by exploring the suggested further reading on Plus.
The illustration above is an artist's rendering of black hole binaries emitting gravitational waves, produced by Olena Shmahalo for NANOGrav and reproduced here under CC BY 4.0.