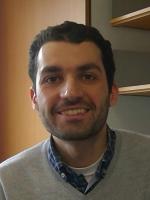 Career
2016-date: University Lecturer, DAMTP, University of Cambridge, UK
2016: PhD at MIT
Research
Convex optimisation and applications
Selected Publications
Please see my publications page
Teaching
Geometric Rényi Divergence and its Applications in Quantum Channel Capacities.
The sum-of-squares hierarchy on the sphere, and applications in quantum information theory.
Learning dynamic polynomial proofs.
Semidefinite Approximations of the Matrix Logarithm
– Foundations of Computational Mathematics
On representing the positive semidefinite cone using the second-order cone
– Mathematical Programming
On polyhedral approximations of the positive semidefinite cone.
Adversarial vulnerability for any classifier.
– Advances in Neural Information Processing Systems
A lower bound on the positive semidefinite rank of convex bodies.
– SIAM Journal on Applied Mathematics
Equivariant semidefinite lifts of regular polygons
Lieb's concavity theorem, matrix geometric means, and semidefinite optimization
– Linear Algebra and its Applications