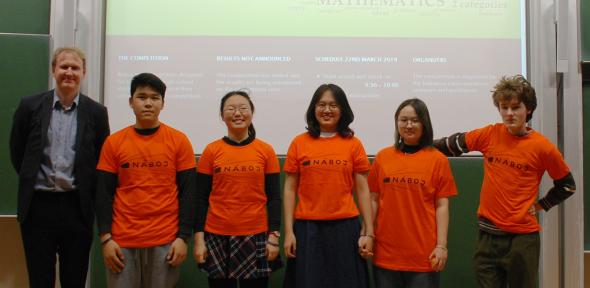 Fri Mar 13th 2020,

10.00am

to

1.30pm
Venue:
Centre for Mathematical Sciences
The Náboj competition will not take place this Friday 13th March 2020
We are extremely sorry to inform you that the Náboj competition will not take place this Friday 13th March 2020 due to the COVID-19 outbreak. Local governments in the participating countries are likely to impose further restrictive measures in more and more areas within today and tomorrow. The international team has, therefore, made the decision to postpone the competition indefinitely.
The new date of the competition is likely to be in the autumn (i.e. next academic year), we will let you know once it is selected. If you have any questions, please contact us via the email address info-gb@math.naboj.org.
Náboj is a fast-paced, problem-solving Maths competition for teams of five designed to promote mathematical ability, inventiveness, ingenuity and teamwork. Teams compete in two categories, Juniors and Seniors. Students participating in Junior category must be in Year 11 or below. The Senior category is open to all students but preferably Year 12 and/or Year 13.
The teams of five have two hours to complete as many problems as possible. The competition will take place simultaneously in Cambridge, Edinburgh, the Czech Republic, Slovakia, Germany, Austria, Switzerland, Poland, Hungary, Romania, Russia and Ukraine. In each of these sites there will be a local leaderboard ranking individual teams, and students will also be able to compare their performance in the national and international ranking.
The Náboj competition is designed to give an opportunity to apply your mathematical knowledge to solve a range of interesting and challenging problems. It encourages and rewards teamwork and co-operation, and provides an exciting and fun opportunity to test and stretch your problem-solving skills.
The Cambridge Náboj competition will be run on the day by volunteer students and staff from the University of Cambridge, and will provide an opportunity to meet and engage with keen mathematicians from other schools and the University.
More details and FAQs
See further details about the Cambridge Náboj event in our Frequently Asked Questions.
For more information about Náboj, including sample problems from previous years, visit naboj.org or contact us on naboj@maths.cam.ac.uk.
How to enter
Registration for the Cambridge competition opens on 10th February 2020 and will close on 6th March 2020.
Entry to the competition is free but teams must register in advance using the online registration form (which will open on 10th February).
Schools are welcome to enter a team of 5 students. Please note that places are limited and will be allocated on a first-come, first served basis, so early registration is encouraged.
School teams must be accompanied by a supervising teacher.  A one hour session for teachers will be offered during the competition by Dr Ems Lord, Director of NRICH.  
Students particularly enjoyed the lively atmosphere, working as a team, the range of problems to be solved, the live leaderboard/results (and the snacks ).