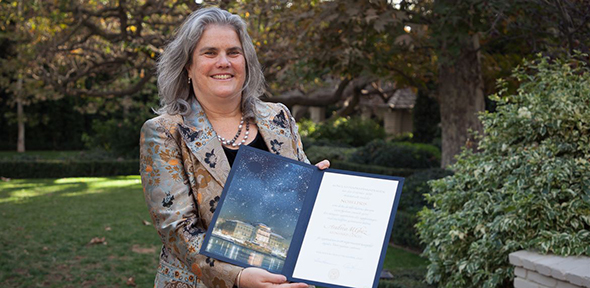 Wed Nov 3rd 2021,

5.00pm

to

6.00pm
From the possibility to the certainty of a supermassive black hole
Join Professor Andrea Ghez (University of California, Los Angeles), 2020 Nobel Laureate in Physics, to learn about new developments in the study of supermassive black holes.
Through the capture and analysis of twenty years of high-resolution imaging, the UCLA Galactic Center Group has moved the case for a supermassive black hole at the centre of our galaxy from a possibility to a certainty, and provided the best evidence to date for the existence of these truly exotic objects.
Recent observations have revealed an environment around the black hole that is quite unexpected - young stars where there should be none; a lack of old stars where there should be many; and a puzzling new class of objects. Professor Ghez will explore how this work is providing insight into how black holes grow and the role that they play in regulating the growth of their host galaxies.
How to book
This public lecture is open to all, and will take place live online via Zoom. The event is free: please book online here.
Image of Professor Andrea Ghez courtesy of Annette Buhl.