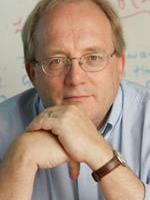 Career
2013 - 2018 Director, Cancer Research UK Cambridge Institute
2015 - 2017 President, London Mathematical Society
2006 - present Senior Group Leader, Cancer Research UK Cambridge Institute
2004 - present Professorial Fellow, Christ's College, Cambridge
2003 - present Professor, DAMTP
2003 - present Professor of Cancer Research (Bioinformatics), Department of Oncology
1999 - 2006 Professor, Department of Preventive Medicine, University of Southern California
1989 - 2006 Professor, Departments of Mathematics and Biological Sciences, USC
1984 - 1989 Associate Professor, Department of Mathematics, University of Utah
1981 - 1985 Assistant & Associate Professor, Department of Statistics, Colorado State University
1978 - 1981 Instructor, Department of Mathematics, University of Utah
Research
Cancer genomics; evolutionary approaches to cancer; statistical bioinformatics for sequencing data; computational biology; population genetics, coalescent theory; stochastic computation, approximate Bayesian computation; statistical inference in molecular biology, human genetics, molecular evolution, palaeontology; tracking from videos; probabilistic combinatorics. FMedSci 2009; FRS 2011; Member of EMBO 2015; Foreign Associate NAS 2018.
Selected Publications
Arratia R, Barbour AD, Ewens WJ & Tavaré S. Simulating the component counts of combinatorial structures. Theoret Popul Biol, doi.org/10.1016/j.tpb.2018.02.002, 2018.
Secrier M, de Silva N, Eldridge MD, Bornschein J, MacRae S, Grehan N, O'Donovan M, Contino G, Yang T, Bower L, Chettouh H, Crawte J, Nutzinger B, Achilleos A, Edwards PAW, Lynch AG, Tavaré S & Fitzgerald RC, on behalf of the Oesophageal Cancer Clinical and Molecular Stratication (OCCAMS) Consortium. Mutational signatures in esophageal adenocarcinoma reveal etiologically distinct subgroups with therapeutic relevance. Nature Genetics, 48, 1131-1141, 2016.
Touloumis A, Tavaré S & Marioni JC. Testing the mean matrix in high-dimensional transposable data. Biometrics, 71, 157-166, 2015.
Sottoriva A, Spiteri I, Piccirillo SGM, Touloumis A, Collins VP, Marioni JC, Curtis CN, Watts C & Tavaré S. Intratumor heterogeneity in human glioblastoma reflects cancer evolutionary dynamics. Proc Natl Acad Sci USA, 110, 4009-4014, 2013.
Curtis C, Shah SP, Chin SF, Turashvili G, Rueda OM, Dunning MJ, Speed D, Lynch AG, Samarajiwa S, Yuan Y, Graf S, Ha G, Haari G, Bashashati A, Russell R, McKinney S, METABRIC Group, Langerod A, Green A, Provenzano E, Wishart G, Pinder S, Watson P, Markowetz F, Murphy L, Ellis I, Purushotham A, Brresen-Dale A-L, Brenton J, Tavaré S, Caldas C & Aparicio S. The genomic and transcriptomic architecture of 2000 breast tumours reveals novel subgroups. Nature, 486, 346-352, 2012.
Cairns J, Spyrou S, Stark R, Smith ML, Lynch AG & Tavaré S. BayesPeak - An R package for analysing ChIP-seq data. Bioinformatics, 27, 713–714, 2011.
Wilkinson RD, Steiper M, Soligo C, Martin R, Yang Z & Tavaré S. Dating primate divergences through an integrated analysis of palaeontological and molecular data. Systematic Biology, 60, 16–31, 2011.
Arratia R, Barbour AD & Tavaré S. Logarithmic Combinatorial Structures: A Probabilistic Approach. EMS Monographs in Mathematics, 1, 2003. European Mathematical Society Publishing House, Zuerich.
Marjoram P, Molitor J, Plagnol V & Tavaré S. Markov chain Monte Carlo without likelihoods. Proc. Natl. Acad. Sci. USA, 100, 15324–15328, 2003.