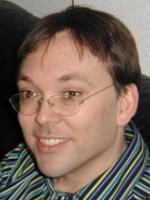 Career
1997-2000 Wellcome Trust Fellow in Mathematical Biology, Edinburgh
2000-2001 Lecturer, School of Informatics, Edinburgh
2001-2004 Wellcome Trust Travelling Fellowship, St Louis and Edinburgh
2004-2006 Lecturer, DAMTP
2006-2015 Senior Lecturer, DAMTP
2015- Reader. DAMTP
Research
Stephen Eglen is a computational neuroscientist: he uses computational methods to study the development of the nervous system, using mostly the retina and other parts of the visual pathway as a model system. He is particularly interested in questions of structural and functional development:
Structural development: how do retinal neurons acquire their positional information within a circuit?
Functional development: what are the mechanisms by which neurons make contact with each other, to perform functioning circuits?
Selected Publications
Please see my publications page
Functional characterization of human pluripotent stem cell-derived cortical networks differentiated on laminin-521 substrate: comparison to rat cortical cultures
CODECHECK: An open-science initiative to facilitate sharing of computer programs and results presented in scientific publications
– Septentrio Conference Series
DeepClean - self-supervised artefact rejection for intensive care waveform data using generative deep learning.
meaRtools: an R Package for the Analysis of Neuronal Networks Recorded on Microelectrode Arrays
– PLoS computational biology
Scholarly Publishing, Freedom of Information and Academic Self-Determination: The UNAM-Elsevier Case
Toward standard practices for sharing computer code and programs in neuroscience
A molecular mechanism for the topographic alignment of convergent neural maps.
Ten Simple Rules for Taking Advantage of Git and GitHub
– PLoS computational biology
A comparison of computational methods for detecting bursts in neuronal spike trains and their application to human stem cell-derived neuronal networks.
– Journal of Neurophysiology