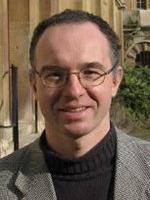 Career
2018-present University Lecturer  Faculty of Mathematics, University of Cambridge
2014-18 Senior Research Associate Faculty of Mathematics, University of Cambridge.
2011  Title of Professor, awarded by the President of the Republic of Poland.
2006-2014, Newton Trust Lecturer in Mathematics, Faculty of Mathematics, University of Cambridge.
2005 Habilitation.
2003-present, Fellow, Tutor, Director of Studies, Senior Lecturer Clare College Cambridge.
1999-2002 Tutorial Fellow in Applied Mathematics and the Senior Mathematics Tutor at Magdalen College, Oxford. University Lecturer in Mathematics, Mathematical Institute, Oxford.
1995-1998 DPhil: Merton College and Mathematical Institute Oxford.
Research
Twistor Theory, Integrable Systems, Differential Geometry.
Selected Publications
Dunajski M., and Tod, K. P. (2019) Conformally isometric embeddings and Hawking temperature. Class. Quant. Grav. 36, 125005.
Atiyah, M., Dunajski, M. and Mason, L. (2017) Twistor theory at fifty: from contour integrals to twistor strings. Proceedings of the Royal Society, 473. 20170530 
Dunajski M. and Penrose, R. (2017) On the quadratic invariant of binary sextics. Math. Proc. Cambridge Philos. Soc. 162, 435445.
Dunajski, M. (2009) Solitons, Instantons & Twistors. Oxford Graduate Texts in Mathematics, Oxford University Press.
Bryant, R. L., Dunajski, M. and Eastwood, M. (2009)  Metrisability of two-dimensional projective structures, J. Differential Geometry 83, 465-499
Dunajski, M. (2002) Four-manifolds with a parallel real spinor, Proc. Roy. Soc. Lond. A 458, 1205-1222
Dunajski, M., Mason, L.J., and Tod, K.P. (2001) Einstein--Weyl geometry, the dKP equation and twistor theory, J. Geom. Phys. 37, 63-93.