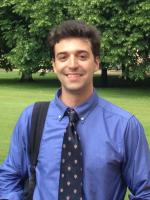 Career
2016-present: PhD in Theoretical Astrophysics, DAMTP, University of Cambridge
2015-2016: Part III Mathematics, DAMTP, University of Cambridge
2011-2015: MSci in Astrophysics, Royal Holloway, University of London
Research
I am a member of the Department of Applied Mathematics and Theoretical Physics (DAMTP) and the Astrophysical Fluid Dynamics research group. Broadly, my current research interests include (but are not limited to):
astrophysical fluid dynamics

magnetohydrodynamics

plasma physics
general relativity
I am particularly interested in the theory of accretion disks (both around black holes and young stellar objects), including:
the launching, collimation and structure of astrophysical jets
angular momentum and magnetic flux transport in disks
hydrodynamic and magnetohydrodynamic instabilities in disks
coherent structures in disks (e.g. vortices, spiral arms, axisymmetric rings and zonal flows)
quasi-periodic oscillations (QPOs)
I also have a long-standing interest in homogeneous and isotropic turbulence, and by extension, turbulence subject to various body forces (MHD turbulence, stratified turbulence, convective turbulence, gravitoturbulence, turbulence in rotating fluids etc.).
 
Publications
Loren E Held, Henrik N Latter; Magnetohydrodynamic convection in accretion discs, Monthly Notices of the Royal Astronomical Society (2020) (in prep.)
Loren E Held, Henrik N Latter; Hydrodynamic convection in accretion discs, Monthly Notices of the Royal Astronomical Society (2018)(accepted), https://doi.org/10.1093/mnras/sty2097