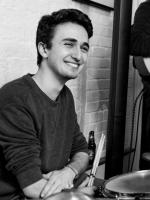 Career
2019-present: Postdoctoral research associate in DAMTP, University of Cambridge
2016-19: PhD student in DAMTP, University of Cambridge
2015-16: Herchel-Smith Fellowship, Harvard University
2014-15: MSci in Physics, University of Cambridge
2011-14: BA in Natural Sciences, University of Cambridge
Research
Joseph is a member of the Department of Applied Mathematics and Theoretical Physics in the High Energy Physics research group. He is currently interested in topological aspects of quantum field theories, with a focus on their applications in particle physics phenomenology. In addition, he has a wider research interest in Beyond the Standard Model physics, including the recent flavour anomalies measured by LHCb.
Public Engagement
In 2017, Joseph worked with musician Darren Bloom on his composition of "Five Brief Lessons on Physics", a piece for string quartet inspired by topics in theoretical physics. Bloom's composition, which was commissioned by the Royal Philharmonic Society, was premiered at the 2017 Cheltenham Music Festival and broadcast on BBC Radio 3. As part of the 2019 Cambridge Science Festival, Joseph co-presented the interactive lecture-recital event "Collision" alongside Bloom and the Piatti string quartet.
Selected Publications
You can find a full list of publications here.