Master of Mathematics / Master of Advanced Study
(Part III of the Mathematical Tripos)
Introduction
Part III of the Mathematical Tripos, is a one-year course which might most simply be described as a taught Master's course in mathematics. However, this description of Part III (there are also Parts IA, IB, and II in the undergraduate course), is possibly inadequate for the culmination of the oldest and most famous mathematics examination in the world! Students from Cambridge take it as the last year of a four year course and obtain a BA/M Math. Students from outside Cambridge take it as a one year course and obtain the MASt (Master of Advanced Study) degree in Mathematics.
Lecture Courses, Essays and Examinations
The structure of Part III is such that students prepare between six and nine lecture courses for examination. These lecture courses may be freely selected from the wide range offered by both Mathematics Departments. Here is the lecture list. As an alternative to one lecture course, an essay may be submitted. Examinations usually begin in late May, and are scheduled in morning (starting at 9:00am) and afternoon sessions (starting at 1:30pm), over a period of about two weeks. Two or three hours are allocated per paper, depending on the subject.
Links to information on the lecture courses and essays that are being offered during the current or a recent academic year are listed below. A timetable of examinations is also available. Details for subsequent years are expected to be broadly similar, although not identical.
Guide
There is an Unofficial Guide to Part III written by Professor Tom Körner (follow the link for other guides).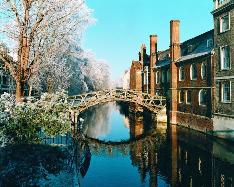 Applications
If you are currently a Cambridge undergraduate intending to take Part III immediately after taking Part II of the Mathematical Tripos or Part II of the Natural Sciences Tripos (NST), then you should consult your College Director of Studies about Part III. While no application to the Board of Graduate Studies is necessary, under University Regulations, Cambridge students who wish to take Part III of the Mathematical Tripos must have the permission of the Faculty Board of Mathematics. For further information please see the following link:
Other candidates to apply to the Faculty of Mathematics through the Board of Graduate Studies (BGS). Closing date for applications is 31 March before the October start, but we encourage to submit applications earlier, if possible before 31 Jan. You may state a preference for a given college.
Entrance Requirements
The Master's is not an easy course. Non-Cambridge graduates are normally required to have a first class honours degree in mathematics, physics, or engineering, or an equivalent qualification. Candidates from within Cambridge are normally required to have obtained first class honours, or very good second class honours.
Funding
Each year over 100 students from all corners of the earth find the wherewithal to take the Master's. Details of funding naturally depend on individual circumstances. In brief :
Other students will have to make their own funding arrangements since the Faculty does not have any scholarship funds under its direct control and, moreover, Research Council Advanced Studentships are not available for the Master's. However, such students should note that:
Further Information and Application Forms
If you have questions not answered in these pages,
send a request
to partiii-admissions@maths.cam.ac.uk.
It is helpful for us if you indicate whether your interests are in pure mathematics, mathematical statistics, applied mathematics and/or theoretical physics; you are welcome to indicate an interest in more than one area.
For those who prefer conventional mail, send your name and postal address to one of the following addresses chosen according to your interests; if your interests straddle both departments then choose an address at random!
Postal Addresses
Applied Mathematics and Theoretical Physics
Part III Admissions Secretary
Centre for Mathematical Sciences,
Wilberforce Road,
Cambridge CB3 0WA,
United Kingdom

Pure Mathematics and Mathematical Statistics
Postgraduate Admissions,
DPMMS,
Centre for Mathematical Sciences,
Wilberforce Road,
Cambridge CB3 0WB,
United Kingdom
How to take MMath and MASt degrees
Arrangements for taking MMath and MASt degrees for students past, present and future.