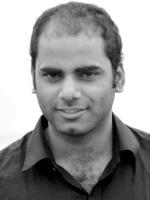 Career:
2018-date Postdoctoral research associate, DAMTP, University of Cambridge, UK
2012-2018 PhD, The Institute of Mathematical Sciences, Chennai, India
2010-2012 MSc, Indian Institute of Technology, Kanpur, India
Research: 
Rajesh is a postdoctoral research associate in the group of Professor Michael E. Cates at the Department of Applied Mathematics and Theoretical Physics (DAMTP), University of Cambridge. His research is in the area of soft matter physics. With this principal theme, he has studied problems in statistical physics, stochastic processes, numerical and computational physics, fluid dynamics, biophysics, and Bayesian statistics. Read more on his personal website.