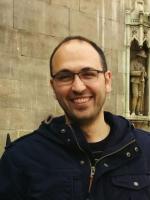 Career
2016-present: 

Postdoctoral researcher, DAMTP, University of Cambridge, UK

2013-2015: Postdoctoral researcher, 

Institute of Genetics and Molecular and Cellular Biology (IGBMC)

, Strasbourg, France
2008-2012:

Doctoral student and teaching assistent, Institue of Fluid Dynamics, ETH Zurich, Zurich, CH

2007 (summar intership): Graduate researcher, Learner Research Institute, Cleveland Clinic Foundation, Cleveland, USA
2007-2006 Bachelor/Master student (biomedical engineering), Politecnico di Milano, Milano, Italy
Research
I am a member of the Biological Physics research group in the Department of Applied Mathematics and Theoretical Physics (DAMTP).  I am interested in the role of fluid flows and forces in the regulation and development of biological systems.
keywords: Cilia, Biological Stokesian Flows, Mechanotransduction, heart/valve development, embyonic heart, blood flow, inner ear, Benigne Paroxismal Positional Vertigo (BPPV), boundary and meshless numerical methods.
Links to Publications
Chapter 8 A quantitative approach to study endothelial cilia bending stiffness during blood flow mechanodetection in vivo
Quantitative analysis of benign paroxysmal positional vertigo fatigue under canalithiasis conditions.
Endothelial cilia mediate low flow sensing during zebrafish vascular development.
A meshless boundary method for Stokes flows with particles: Application to canalithiasis
– International journal for numerical methods in biomedical engineering
A multilayer method of fundamental solutions for Stokes flow problems
– Journal of Computational Physics
Vortical flow in the utricle and the ampulla: a computational study on the fluid dynamics of the vestibular system
– Biomechanics and Modeling in Mechanobiology
Fluid mechanics of mosaic ciliated tissues
Fluid Mechanics of Mosaic Ciliated Tissues
– Physical Review Letters