Streaming from MR2 to YouTube
Introduction
We now stream our events via YouTube because the UIS have decommissioned their streaming service. Our channel is managed by the Google Brand Account "CMS Live Streaming" to which Mick Young has admin rights. Please ask him if you need to be added to this account (you will need a personal Google account).
The hardware we use is a Linux PC called neighbours.maths which is set up like a Maths Ubuntu desktop except that it has a data capture card and OBS Studio software installed to enable live streaming.
How to stream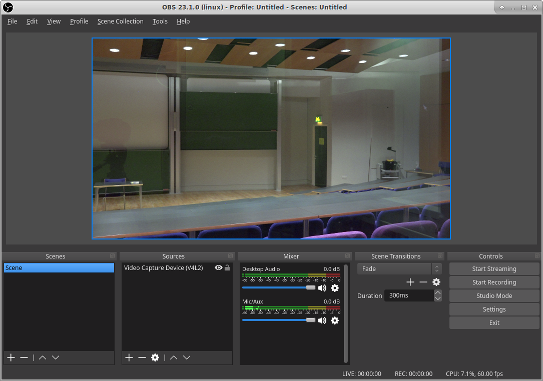 Make sure the video and audio feeds are plugged into the back of the PC and that the audio cable is connected to the blue mic socket.
If using the camera, ensure that its video output is correctly configured. In the REC/OUT SET -> VIDEO OUT menu, OUTPUT SELECT should be HDMI and SDI/HDMI (the resolution of the video output) should be 1080p/480i (for 60Hz refresh rate) or 1080p/576i (for 50Hz).
Log into neighbours as "obs" - ask Mick Young for the password.
Launch OBS Studio via Applications -> Multimedia -> OBS Studio
Check that the video looks right and that the audio meters are fluctuating (playing audio in the preview is disabled because it can create an echo effect).
Click "Start Streaming" to start the stream and remember to click "Stop Streaming" at the end.
Troubleshooting
Check all cable connections.
If using the camera, check the preview image on its screen.
If the video is blank try these steps to refresh it:

Click on Video Capture Device (V4L2) under Sources
Click the minus sign at the bottom of that column to delete it
Click the plus sign at the bottom of that column to add a new video source
Select Video Capture Device (V4L2)

Streaming the video feed from the lectern PC is untested. If its resolution is 1920x1080 it should just work. Otherwise please email help@maths.